The Vet Your
Pet Purrfurrs
Call us today to schedule your pet's wellness appointment.
Our Hours
Monday- Friday:
8:00 AM – 5:00 PM
Our Mission
Our passion is simply
a love of animals
Our mission is to provide the best veterinary medical care and to work with pet owners to develop programs in order to ensure the greatest degree of wellness and happiness for their pets.
About Us
Caring For Your Pets
Our Pet Services
Since 2015, Purrfurred Pets Veterinary Clinic has been providing top quality veterinary services for dogs, cats, and other pets at honest, fair costs. We love helping animals and we believe that quality animal health services need not be expensive.
Explore All Services
Helping Our Community
Giving back through our non-profit work
Get to Know GAPS-Greater Arizona Pet Support
GAPS is committed to assisting pet owners who desire to be a part of ending pet overpopulation but are unable to afford the cost required to spay/neuter their pets and to assist those pet owners who are unable to afford the medical services to save their pet's life.
More Information Coming Soon.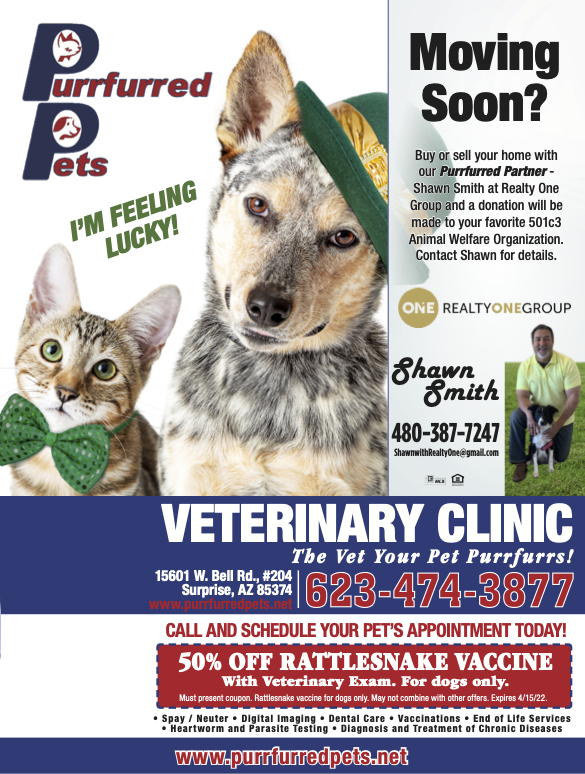 What's New At Purrfurred Pets
April GAPS events are on now. Click HERE to view our flyer and for more information on this event.
Contact Us
Reach out to us and we will be happy to answer any questions, discuss your pet's health and book an appointment.
Get Directions
Address
15601 W Bell Rd, Ste 204
Surprise, Arizona
85374
Contact
Hours
Monday to Friday: 8 AM- 5 PM
Saturday: Closed
Sunday: Closed